Page Under Construction!
Text Editor
[
]
Like the Overview Manager, the Text Editor

allows you to modify a large assortment of data (in this case strings of text) in one window.
Text type implements handful of Text Tags.
Location
[
]
The Text Editor can be accessed by pressing the F8 key inside the Galaxy Editor, or by clicking the icon located on the main toolbar: Text Editor Icon
User Interface
[
]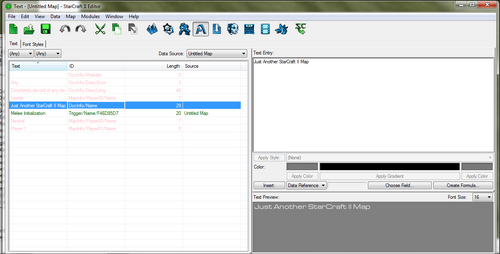 Data Source: Use this to define a source of text you would like to edit. Your options will vary with what dependencies you have checked. [Citation Needed]
Filters: Use these to narrow down your results. Options include Doc Info, Map Info and Trigger.
Text Entry: Use this window to edit your text. For a detailed chart of text styles, view this.
Common Problems:
[
]
Text will not be shown in other languages, because the text value for other languages are empty. Use SC2 Localizer and its mpq Editor for other languages.